19. Apr 2013
2e Systems and Air Moldova sign agreement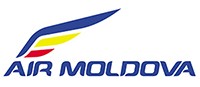 In April of 2013, Air Moldova acquired 2e Systems to develop the eeBook, eeDepart and eePromote solutions for the carrier. The airline, based out of Chisinau, is the national airline of Moldova and operates scheduled services to 20 destinations in Europe.
"2e Systems offers a solid product to meet our operational and commercial requirements," said Vasile Hincu, CCO of Air Moldova. "Their technology provides us with new possibilities to market our product and services online."
The carrier has commissioned 2e Systems to provide both a customer and corporate booking engine as well as online check-in solution. In addition, the powerful eePromote tool will be fully integrated into the platform, which affords Air Moldova the ability to fully manage and implement electronic vouchers as well as webfares.
"Air Moldova's choice of 2e Systems products follows the trend of carriers looking for a range of solutions that can be easily integrated and managed on one central platform, which is perfectly suited to our eeSky Suite," says Phil Douglas, CEO of 2e Systems. "We have extensive expertise in delivering products that are both modular and easily customizable and we are extremely pleased that Air Moldova has chosen our solution."