28. Nov 2019
2e Systems receives IATA NDC Level 3 certification
2e Systems has been granted "NDC Capable" Level 3 status for its NDC-based flight shopping and booking solution eeBook, under the International Air Transport Association's (IATA) NDC Certification Program. 2e Systems is proud to have achieved this status through a close cooperation and partnership with Hahn Air. The status recognizes that 2e Systems' Internet Booking Engine (IBE) eeBook supports deployments using Offer and Order management messages whose schemas are compliant with the standard NDC message schema, version 17.2.
"The introduction of these new standards will change and modernize the aviation industry and enable airlines to offer customer-specific services via direct channels," says Phil Douglas, CEO of 2e Systems. "Our IATA certification and the successful launch project, together with our partner Hahn Air, is confirmation that we are ready and capable to support the future needs of any airline. We are extremely proud of this achievement and we look forward not only to working with our partners in making this area a huge success, but also to achieving our next important milestones in solidifying our NDC capabilities."

Yanik Hoyles, Director of Industry Distribution Programs at IATA said, "We welcome the decision by 2e Systems to support airline efforts to provide full, rich content and product differentiation through their NDC-capable flight shopping and booking solution."

NDC (New Distribution Capability) is a travel industry supported program launched by IATA for the development and market adoption of a new, XML-based data transmission standard that enhances the capability of communications between airlines, travel agents, aggregators and most importantly the travelers as end consumers. The program enables the industry to transform the way airline products are retailed to business and leisure travelers with full and rich content, and a transparent shopping experience. 2e Systems' dynamic booking engine eeBook allows airlines to design and distribute their products and services in an uncomplicated and user-friendly way.

Christopher Allison, Head of NDC at Hahn Air Lines added: "Hahn Air is delighted to partner with 2e Systems on our NDC journey. In the coming months, we will connect additional agencies, aggregators and partner airlines to our platform and introduce new features such as additional forms of payment, for example, BSP and ARC, support for itinerary changes, and ancillary content, such as additional baggage and seat reservations."

2e Systems will continue investing strongly in innovative NDC solutions which improve the capabilities and offers for its airline partners and furthermore, strengthens its leading position in the industry.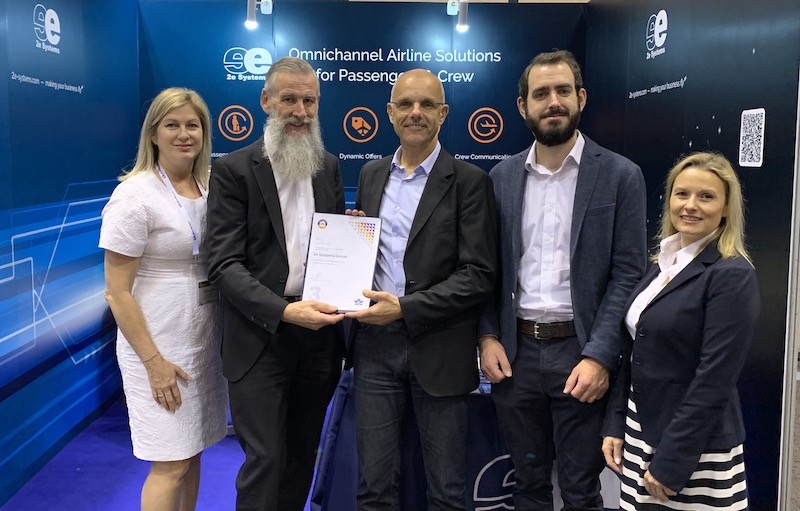 Picture Caption

Yanik Hoyles, Director of Industry Distribution Programs at IATA (center), presenting the IATA NDC Level 3 certificate to Phil Douglas, CEO of 2e Systems, with Tracey Shaw, CCO of 2e Systems (far left), Christopher Allison, Head of NDC at Hahn Air (right) and Saskia Haines, Marketing Manager at 2e Systems (far right) at the IATA Airline Industry Retailing (AIR) Symposium in Bangkok.